Did you know that colors have the power to change your life?
"Have you ever looked at a painting and wondered why it made you feel happy or sad? Calm or energized? The answer is color!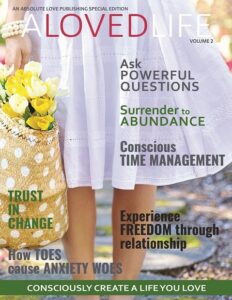 The colors we surround ourselves with can directly influence the way we feel. Research shows that color can play a major role in our overall state of well-being, with the ability to calm us, motivate us, or lift us up when we are feeling down. It can increase our feelings of worthiness, confidence, joy, focus, and clarity, all of which create the vibrations necessary to attract our desires. Color even can help support and encourage abundance!" . . .
Read "Use Color to Ignite Change and Invite Abundance" by Jean Rudko, exclusively in ALOVEDLIFE volume 2, a timeless bookazine by Absolute Love Publishing featuring stories on Intentional Living, Elevated Action, Conscious Connection, and Sacred Self Care. Learn about all the editions here.