"Transformational Soul Coach Michelle Bateman knew her perspective had to change. Following the end of her second marriage, Bateman felt lonely, isolated,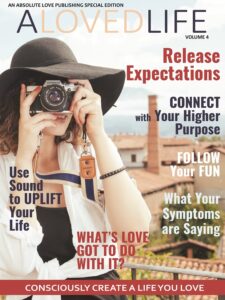 and lost. Describing that period in an interview with Divas That Care Founder Candace Gish, Bateman remembered thinking, 'There's got to be more to life than this. I'm so unhappy and feel unfulfilled, but I don't know why and I don't really know where to look.'
She said, 'I had a dear friend who was dying of ALS and was completely paralyzed — and he was happier dying than I was living my life.'
This realization was a wake-up call. 'I used to be this happy, loving, kind person, and I lost that along the way, and so I had to find myself again.'". . .
Read "Transform Your Life with a Step," exclusively in ALOVEDLIFE volume 4, a timeless bookazine by Absolute Love Publishing featuring stories on Intentional Living, Elevated Action, Conscious Connection, and Sacred Self Care. Learn about all the editions here.