In honor of Women's History Month, Absolute Love Publishing will again shine our light of love on some of the most authentic, intuitive, courageous, and inspiring women today.
Our first feminine luminary is Shannon Miller – America's Most Decorated Gymnast – who was in Absolute Love Publishing's "Women Will Save the World."
Shannon is releasing her memoir, "It's Not About Perfect: Competing for My Country and Fighting for My Life" this April. Shannon's memoir shares her experiences on going for the gold not once, but twice through two Olympic Games, even in the face of personal physical adversity. Her inspirational life story has many wins and then Shannon faces the competition of her life-battling ovarian cancer.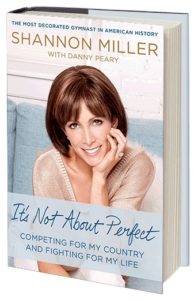 "Shannon Miller has displayed, strength, character and perseverance her entire life … In It's Not About Perfect she shares how the traits that shaped her life can translate into success in all walks of life," said Dan Jansen, Olympic Gold Medalist Speed Skater.
Shannon's honest and emotional journey reminds us that we can draw on our inner strength to endure life's most unexpected moments of personal crisis. Shannon's clean bill of health and the birth of her daughter are truly triumphs of tenacity and love never giving up.
Absolute Love Publishing awards Shannon Miller with our gold medal of love. Thank you, Shannon, for being a beacon of hope and perseverance for so many.
Go to www.shannonmiller.com to hear more about Shannon's coming memoir or find her on Twitter at #ItsNotAboutPerfect. Shannon Miller is available for book signings, speeches, and appearances. You can pre-order her new book at Amazon.