"Beauty can be described as something that is pleasurable to view, but who makes the decision of what is 'pleasurable to view' or not? You, do! Beauty is in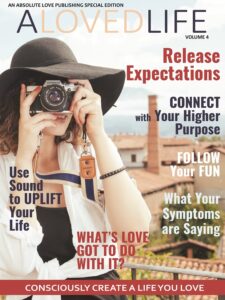 everything and everyone – we just have to be open to seeing it. Sometimes it's easy to see beauty in others but harder to see it in the mirror. Many deeply struggle with this every day.
If we open ourselves to seeing more beauty both in ourselves and all around us, we can leave behind negative messages or pressure and instead live happier lives. Why's this? Two thoughts can't occupy the same space. If we're focused on appreciating something as beautiful, we can't be thinking the opposite! It takes practice, but there are many ways we can find and appreciate our beauty more. Here are a few to help guide you on your way." . . .
Read "Seek Out Your Beauty" by Sara Laymon, exclusively in ALOVEDLIFE volume 4, a timeless bookazine by Absolute Love Publishing featuring stories on Intentional Living, Elevated Action, Conscious Connection, and Sacred Self Care. Learn about all the editions here.