Are you looking to support women writers based in Austin? Be sure to catch Austin Business Woman for a feature on local Austin authors, including our own Caroline A. Shearer and Sarah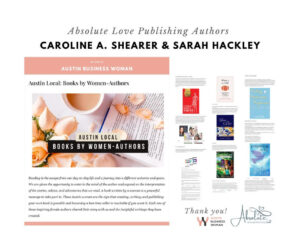 Hackley! Featuring books like Dead End Date, the Raise Your Vibration series, Women Will Save the World, Finding Happiness with Migraines, and Preparing to Fly, this article is worth the read!
"These Austin women are the sign that creating, writing, and publishing your own book is possible and becoming a best time seller is reachable if you want it."
Read the full article here!