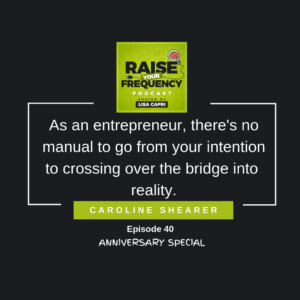 In episode 40 of the Raise Your Frequency podcast, host Lisa Capri and Absolute Love Publishing Founder Caroline A. Shearer celebrated the one-year anniversary of the podcast. Shearer was the first guest on the podcast and came back to celebrate this memorable moment with Capri.
Shearer is known as a raise-your-vibration authority in the literary world. Shearer advised in the podcast that if you want to raise your frequency, the first step is to "take charge of your thoughts. Your thoughts control your day, and they also control how you experience your day."
Shearer explained, "Absolute Love Publishing uses its words for good," making sure all its products have a positive impact on readers. When making decisions, Shearer said she's attuned to her inner self and that it's the guiding force behind everything she does – making sure she's listening to the higher voice that is coming through her.
In the anniversary episode, Shearer updated Raise Your Frequency podcast listeners on Absolute Love Publishing's new offerings. Absolute Love Publishing added a middle grade catalog and published the first book in a middle grade science series, Cosmic Conundrum, as well as Different, about a middle schooler struggling with Tourette syndrome. Absolute Love Publishing also published Atlantis Writhing, an adult metaphysical fantasy romance novel, and launched an ongoing book/magazine hybrid called ALOVEDLIFE designed to help readers create a life they love.
In the inaugural edition of ALOVEDLIFE, Capri has an article discussing shiny object syndrome. Find all editions of ALOVEDLIFE here.
The Raise Your Frequency podcast can be found on iTunes, Spotify, GooglePlay, and Stitcher! Listen to the entire podcast on Lisa's website here.