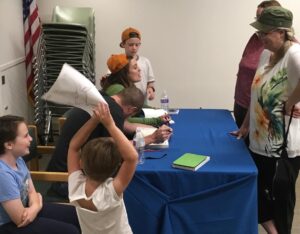 The Salt Lake County Library Taylorsville branch hosted Author Meredith Ethington for a book signing for Mom Life: Perfection Pending on August 6, 2019. The Absolute Love Publishing parenting book was created after a blog post entitled, "A Real Mom's Guide to a 'Clean' House" went viral. This "guide" is included in her book, which gives readers a look at all that is expected of moms in the 21st century.
When asked about the purpose behind Mom Life, Ethington said, "I wanted the mother who felt isolated and alone and like she wasn't measuring up to know that she, too, was meant to be a mother. And that she is, in fact, the best mother for her own kids. Moms need to know they can do it. They are enough. We're strong, and we can do this—because we love our kids."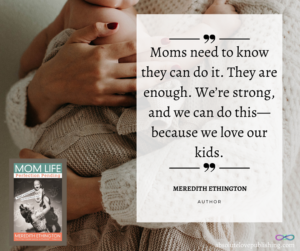 Ethington's debut book has been described by bestselling Beyond the Break and Red Water Author Kristen Mae as a "humorous take on motherhood [that] offers overworked and touched-out mamas exactly the right dose of 'Don't worry, you're doing all right' we didn't even know we needed".
Buy Mom Life in the Absolute Love Publishing store, Amazon, and everywhere books are sold.
Photo: Meredith Ethington signs books at the Salt Lake Library in Taylorsville.