Absolute Love Publishing is excited to announce the release of Atlantis Writhing, an epic fantasy novel from debut author Jean Brannon. Atlantis Writhing is more than a story—it is a reader experience woven with teaching aspects of self-healing and self-empowerment. Every aspect of Atlantis Writhing is mindful and designed to inform and uplift readers.
"The design details in its cover illustrations are intended to inspire love and gratitude and peace in the midst of turbulent outside circumstances," says Brannon.  "I hope the pure intention I've held in the creation of Atlantis Writhing uplifts and inspires and empowers everyone who reads it or even glimpses its cover."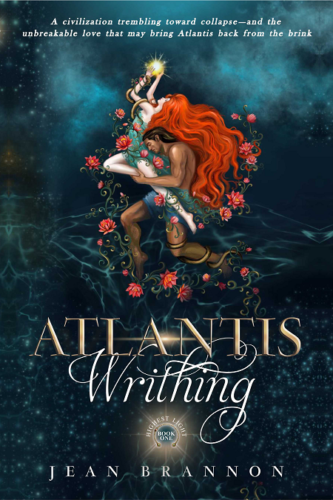 BOOK ONE in the Highest Light series: Atlantis Writhing
A civilization trembling toward collapse—and the unbreakable love that may bring Atlantis back from the brink
Atlantis is writhing. Chaos and greed have granted an obsessive new monarch enough power to destroy the world—and beyond. The only thing standing between King Gadeirus and intergalactic annihilation is Elysia and her fellow Light Ray missionaries. As time grows short, the missionaries work tirelessly to overcome the evil Lesser Light forces. When all options have been stripped away, a symbol long lost to antiquity surfaces just in time to inspire them to concoct one last desperate scheme.
Forbidden longings must be dealt with, too. Cravings Elysia must confront in the presence of hypnotic Alaric, a visiting dignitary with a scandalous past. But behind his seductive ways is a shocking secret—an unexpected key that may help Elysia unlock her potent power and wield it in the fight for the Highest Light.
What people are saying …
Tania Marie, Author, Artist, and Reiki Master Teacher:  "A captivating journey rich with visual splendor and anticipation woven into every page. Atlantis Writhing induces seeded memories to awaken the potential not only to heal on very deep levels, but to incite a return to natural harmony and inherent wholeness. As you're swept away in an incredible romance, you'll cultivate understanding and love for the sacred relationship with yourself and discover how true love versus mission may not be so different. Book 1 in Jean Brannon's Highest Light Trilogy will leave you yearning for more."

Ashley Ebba, Tantric priestess, yoga teacher, and model: "Journey with cosmic energy beings as they face the challenges of fighting for what they believe. Witness a romantic love affair filled with pure selflessness. Beautifully done."
Atlantis Writhing is available in digital and paperback formats from Amazon, B&N, Kobo, iBooks, and the Absolute Love Publishing Store. Buy a copy of this new release for yourself and as a gift for someone you love!