In honor of Women's History Month, Absolute Love Publishing will again shine our light of love on some of the most authentic, intuitive, courageous, and inspiring women today.
Our next feminine luminary is Kate Neligan, founder of the Synergy TV Network and a trailblazer contributor to Absolute Love Publishing's "Women Will Save the World."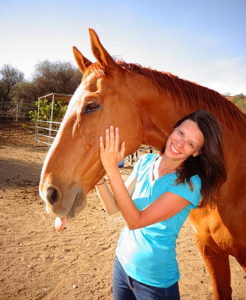 When she's not spreading love and positivity through her media company, Kate is sharing another passion: teaching self-love through work with horses. And, she is tying it in with the "selfie" movement, in a positive way. "Selfie doesn't have to mean 'self-centered,'" said Kate. "It can mean 'self-love.'" Her goal with Horsie Selfie Equine Assisted Coaching is to help people find "self-love through horse-love. Through the mirror of a horse, we can learn to love ourselves and find happiness in our lives."
Kate launched Horsie Selfie on International Happiness Day on March 20 in tribute to Felici, a grey Arabian mare who had a soulful impact on Kate's personal life journey. "Felici taught me that leading with love and doing what makes me happy are major ingredients for a contented and fulfilled life." The horse's name means "happiness" in Italian, and Felici now celestially guides Kate as she holds "Meditating with Horses" groups and other self-love-focused programs. Horses "require our presence, evoke our joy, celebrate our authenticity, and return us to our innocence," shared Kate.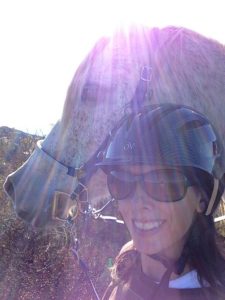 The combination of Kate's longtime love of horses and her personal journey to release a life of perfectionism was a natural fit for this movement, as she realized it is within each of us to release the power we allow others' opinions to have on us. "My mission as an equine-assisted coach is to empower people to live lives that rock and to develop deeper self-love and greater happiness."
Kate offers up this mantra: "My happiness is an inside job. It's no one else's responsibility to approve of me, acknowledge me, or celebrate me. I hold the keys to unlock and expand my own heart."
Absolute Love Publishing applauds Kate Neligan for showing us another path to self-love and happiness.
Kate's equine-assisted coaching can be enjoyed individually, as a workshop, or as a corporate training program with many customizable options. Join the herd, and help promote the kind and respectful treatment of horses and humans (and all animals) through art. Find the movement on Instagram (HorsieSelfie,) and share your horsie selfies with hashtag #horsieselfie on Twitter! Find Kate on Facebook in the Equine Rockstars Group. Donate to the Felici Fund, and sponsor equine therapy/coaching scholarships for kids in need.
Learn from Kate's coaching tips/tools on You Tube, and for general coaching inquiries or scheduling a workshop, visit www.consciousrockstar.com.