Absolute Love Publishing young-adult author and former Holy Saviour School alumna Janet McLaughlin returns home to Norristown, Pennsylvania, to celebrate her latest book release with the students of two local schools: St. Francis of Assisi School and Holy Rosary Regional Catholic School.
"What a treat it will be to be back in my hometown," said McLaughlin. "I may have been away for a long time, but I have never forgotten my roots. And to make this homecoming even more special, I'll be going to a Bishop Kenrick High School reunion and spending time with friends I haven't seen for years. Many of them probably won't know that I'm an author of books for teens. But, ironically, their grandchildren might."
McLaughlin is the author of the Soul Sight Mysteries, including "Haunted Echo" and a new release, "Fireworks." She spoke with students and sold and signed books at the two school events.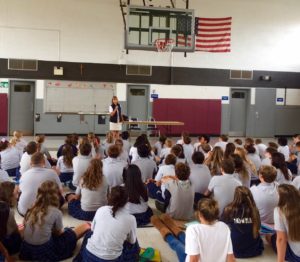 "I love visiting schools and talking to young teens about my writing process and my books," she said. "Students never cease to amaze me with their insights and their questions. I am honored to be a part of their lives, even for a short time."
The Soul Sight Mysteries are about a psychic teen named Zoey Christopher who uses her natural gift of visions to solve mysteries. Each book involves a Nancy Drew-style mystery, age-appropriate romance, and rite-of-passage teen drama. These books are the quintessential young-adult reads as they are parent and teacher friendly, yet still have appeal, intrigue, and romantic tension.
About Janet McLaughlin
Janet McLaughlin has been involved in the communication field most of her adult life as a writer, editor, and teacher. Her love of mysteries and the mystical are evident in her novels. She is a member of the Society of Children's Book Writers and Illustrators and the Florida Writers Association. She grew up in Norristown, Pennsylvania, and lives in Florida with her husband, Tom. Along with her writing, she enjoys playing tennis, walking, traveling, and meeting people. Janet loves to hear from her readers and can be reached directly on Facebook and Twitter.