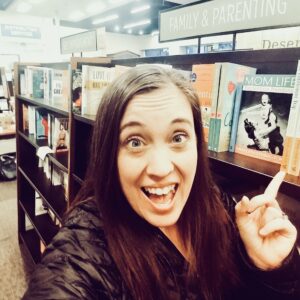 Deseret Book-Sugarhouse in Salt Lake City, Utah hosted author and blogger Meredith Ethington for a book signing on May 5, 2018 celebrating the release of her first book, Mom Life: Perfection Pending. Ethington's main message with her writing is letting moms know they can love their kids and love motherhood and all it entails – even if they aren't perfect moms.
Ethington, who grew up in Texas, is a popular humorist/parenting blogger and the founder of Perfect Pending, a parenting blog website that seeks to portray parenting with humor and wit. Ethington's writings have been featured in Babble, Today.com, Parenting Magazine, and Scary Mommy. She also has appeared in the Wall Street Journal and New York Magazine.
Mom Life is filled with refreshing humor and the relatable gritty truth about being a mom!