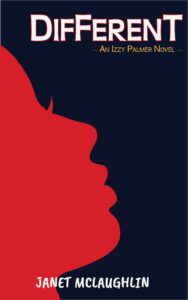 Here is the cover for Absolute Love Publishing's upcoming middle grade book, Different!
Twelve-year-old Izzy wants to be like everyone else, but she has a secret. She isn't weird or angry, like some of the kids at school think. Izzy has Tourette syndrome. Hiding outbursts and tics from her classmates is hard enough, but when a new girl arrives, Izzy's fear of losing her best friend makes Izzy's symptoms worse. And when she sees her crush act suspiciously, runaway thoughts take root inside of her. As the pressure builds and her world threatens to spin out of control, Izzy must face her fear and reveal her secret, whatever the costs.
A must-have for classroom bookshelves, check out this teacher endorsement:
"Different is an insightful look into the life of Izzy, who faces every day with the challenges of Tourette Syndrome. The author allows you to feel the world from Izzy's perspective, creating an understanding that she is more like her classmates than different. As an educator for more than thirty years, it is wonderful to find a text that promotes an understanding of differences. I have had several students with Tourette Syndrome, and the availability of literature to build awareness for class was limited. This book lends itself to class discussions about what it means to be 'Different.'" – Lora Netherland, M.ED Special Education
Authentic and perceptive, Different shines a light on the delicate line of a child's hopes and fears and inspires us all to believe that perhaps we are not so different after all.
DIFFERENT – Coming Fall 2018!