Do you want to know how to be your best self?
"Many of us are working every day to become better versions of ourselves. We have good days and challenging days, steps forward and steps backward. But on the whole, most of us make continual progress toward becoming better versions of ourselves, whether that is being kinder or stronger, more forgiving, or all of the above.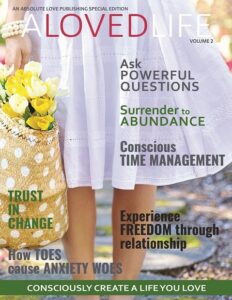 Candace Gish, founder of the Divas That Care network, sees this more than most in her extensive experience interacting with and supporting women of every age bracket from all across the world. What she sees and hears through her network's numerous podcasts and other endeavors has a common theme: women evolving personally by choosing to make a positive impact, in whatever way is most meaningful to them." . . .
Read "Be Your Best Self" by Divas That Care Founder Candace Gish, exclusively in ALOVEDLIFE volume 2, a timeless bookazine by Absolute Love Publishing featuring stories on Intentional Living, Elevated Action, Conscious Connection, and Sacred Self Care. Learn about all the editions here.