"Love Like God: Embracing Unconditional Love" contributor Tonya Fitzpatrick spreads a message of unconditional love through inspirational travels, cross-cultural understanding experiences, and "voluntourism" opportunities with World Footprints radio. Her life mission recently brought her to Sochi, Russia to cover news of the Winter Olympic Games, with a focus on the Paralympic Games.
"During the Paralympic Games in Sochi, the men made history, but the women really shined," said Fitzpatrick. One of her most inspirational interviews was with 18-year-old, first-time Paralympian Stephanie Jallen, who competes in alpine events such as the slalom with just one leg and one arm – a true example of what a woman's strength and determination can achieve. "This young woman is fearless and believes that all things are possible. She skied her way down black diamond slopes to the podium twice to take home bronze medals each time."
Fitzpatrick also witnessed women creating peace one moment at a time as two female cross-country skiers – one Ukrainian and one Russian — put aside their countries' political differences to share the podium, along with a Swedish cross-country skier.
"Every single athlete at the Paralympics reflects the closing ceremony message that turns 'Impossible' to 'I'm possible,'" said Fitzpatrick. "As women we must always embrace the belief that 'I'm Possible' when we start to feel defeated. All we have to do is look at the brave women at the Paralympic Games who embraced a belief in themselves to compete on an international stage."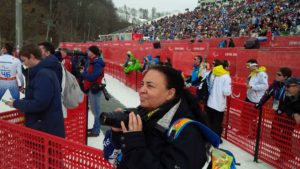 Each of Tonya's experiences with these women of the Sochi Olympics show the value of what self-love, perseverance, courage, and strength can bring to fruition. When you think you cannot do something, remember the determined women at the Paralympic Games who embraced a belief in themselves.
"As someone who has a passion for connecting people of different cultures and encouraging others to live their best lives, the Paralympic Games and the spirit of the athletes and humanity left an indelible impression on my heart," she said.
Fitzpatrick provides a strong voice through the World Footprints platform for living a socially responsible lifestyle that makes a positive imprint on our planet and shines a light on important global issues such as human rights advocacy, travel, and environmental and animal conservancy. She recently was honored with two awards in the Travel Broadcast category from the North American Travel Journalists Association:
Gold Place for the show, "Gettysburg, Beyond the Battlefield and Along the Underground Railroad"
Bronze Place for Live Broadcast during the 2013 French Quarter Festival in New Orleans, Louisiana featuring James Carville and Mary Matalin
In addition to contributing to "Love Like God," Tonya is an attorney, author, co-host/co-founder of World Footprints radio, and co-author of "Success Simplified" with Stephen Covey.
Congratulations, Tonya on your unconditional love and dedication to making our world a better place, one footstep at time!
Learn more about Tonya Fitzpatrick here.