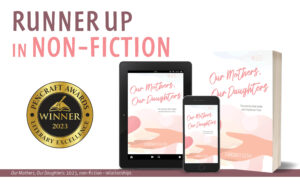 The 2023 PenCraft Book Awards voted Our Mothers, Our Daughters by Candace Gish as Runner Up Winner in the category of Non Fiction – Relationships. The award was based on literary excellence and popularity, in a competition with over 1,100 book entries.
"Books that win our competition are not only examples of literary excellence but also have demonstrated a notable popularity with readers. We want our PenCraft Book Awards to represent true book winners, and (Our Mothers, Our Daughters) was indeed one that met that criteria."
Our Mothers, Our Daughters also earned an honorable mention in the Non-fiction-Anthology category from Readers Favorite book awards, as well as the coveted 5-star review. Congratulations to the contributors on another award!
Synopsis: The mother-daughter relationship defines who we are, how we view ourselves, and what we want for our lives. Much like this multi-faceted relationship, the lessons in Our Mothers, Our Daughters are strong, yet soft. Through a collection of curated stories, readers journey alongside moms and daughters as they share poignant moments and messages of an everlasting bond. A Divas That Care anthology, this book showcases the collaboration and celebration of women and is presented in three collections: Connection, Inner Self, and Unconditional Love.