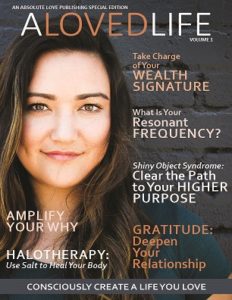 Have you ever heard of manifesting through affirmations?
"I'm going to let you in on a secret. The main reason people suffer from a lack of money or love or health in their lives is that they do not value themselves – not really, not when you get down into those little crevices where doubts and criticisms live.
We believe we have made too many mistakes. We believe everyone else is doing things so much better. We think our flaws (hidden as we may keep them) make us unworthy of love or acceptance or a happy life. We think our successes aren't as valid as they really are; we make excuses for how we were able to win rather than claim our success outright."
Read "Manifesting through Affirmations" by Caroline A. Shearer, exclusively in ALOVEDLIFE Volume 1, a timeless bookazine by Absolute Love Publishing featuring stories on Intentional Living, Elevated Action, Conscious Connection, and Sacred Self Care. Learn about all the editions here.