Have you ever wondered if your toes could be connected to your anxiety woes?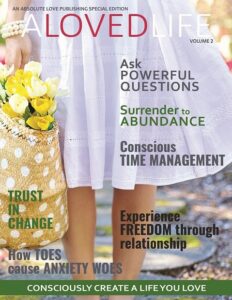 "From feeling like a Nervous Nellie to suffering full-fledged panic attacks, anxiety leaves a lot of us on pins and needles. Read on to learn about an effective natural remedy that simply involves some TLC for your toes.
According to the National Institute of Mental Health, anxiety affects roughly 40 million American adults, with women being twice as likely as men to have symptoms. Yet there's a simple but powerful 'anxiety antidote' you've likely never heard of that's rooted in ancient Asian wisdom. It involves analyzing the shape and structure of your toes and feet, and it can predict how prone you may be to experiencing anxiety in the first place."
Read "How Toes Cause Anxiety Woes" by acupuncturist Jean Brannon, exclusively in ALOVEDLIFE volume 2, a timeless bookazine by Absolute Love Publishing featuring stories on Intentional Living, Elevated Action, Conscious Connection, and Sacred Self Care. Learn about all the editions here.