Absolute Love Publishing's book, Different, by Janet McLaughlin, is an outstanding novel that tells the story of a middle school-age girl who is struggling with living with Tourette Syndrome.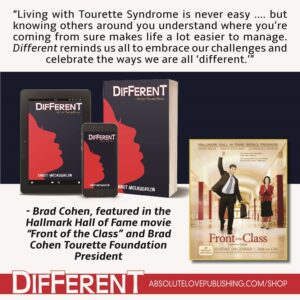 Amanda Talty, the President and CEO of the Tourette Association for America, writes that she "applaud[s] Different for bringing light to this misunderstood neurological condition and personifying the challenges our community overcomes while educating and encouraging compassion. The author does a great job of showing that the term 'different' can be used in many ways, and not just as a negative connotation." President of the Brad Cohen Tourette Foundation, Brad Cohen, praises how "Different helps others embrace their own challenges in hopes that everyone can be a better person in the long run." Cohen, who had a movie of his experiences produced by Hallmark Channel, explains, "Different reminds us all to embrace our challenges and celebrate the ways we are all 'different.'"
Lora Netherland, an M.ED special education teacher, responds to how Different portrays Tourette Syndrome, saying, "It is wonderful to find a text that promotes an understanding of differences." She mentions that literature that deals with Tourette Syndrome is very limited but that this book will help stimulate class discussion of what it means to be "different." Kirkus Reviews writes that "Different is an "empathetic novel" that "compassionately portrays an underrepresented disorder."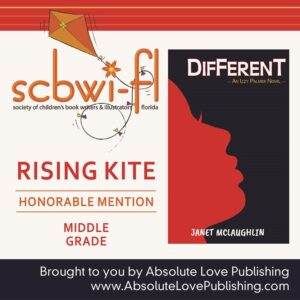 In addition to this professional praise, Different was awarded a Rising Kite Awards Honorable Mention in middle grade books by the Society of Children's Book Writers & Illustrators – Florida.
Notably, Janet McLaughlin's novel sheds light on a misunderstood disorder by giving readers a look at what it's like to live with Tourette Syndrome, while also providing an overall theme of the importance of belonging. From late elementary school to early high school, children of many interests will find meaning in its pages.
Buy it in print or in e-book here: https://absolutelovepublishing.com/different