Do you know what it means to ask powerful questions?
"I've been on a personal-transformation journey for much of my life. I've studied with amazing teachers. I've read hundreds of spiritual and personal-growth books. I even launched a newsstand magazine called Law of Attraction, serving as Editor-in-Chief from 2011 through 2013, in which I shared wisdom from a wide variety of experts and wisdom I received for our readers. I also serve as a transformational mentor and consciousness catalyst.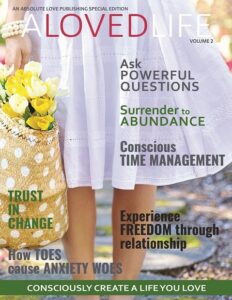 Throughout this journey, I've tried and taught countless practices, from various forms of meditation and journaling to 'processing' techniques for dissolving emotional debris and false beliefs. And out of all of these practices, one of the most potent, by far, is what I call: Ask Powerful Questions." . . .
Read "Ask Powerful Questions" by author Sue Elliott, exclusively in ALOVEDLIFE volume 2, a timeless bookazine by Absolute Love Publishing featuring stories on Intentional Living, Elevated Action, Conscious Connection, and Sacred Self Care. Learn about all the editions here.