Steve Schatz's, Adima Rising, book one in The Adima Chronicles, is now available in audiobook! Adima Rising is a young adult fantasy novel for all ages.
With power shifting away from the light and into darkness, four teenagers must awaken their powers and save the world. In order to find their power, they must complete ancient challenges that will turn them into Adima. If they don't succeed, the last threads of light will be gone forever and the world will be lost to darkness.
Adima Rising is available in audiobook from Amazon, Audible, Apple Books, Wal-Mart, and Scribd. Adima Rising is followed by book two in The Adima Chronicles, Adima Returning.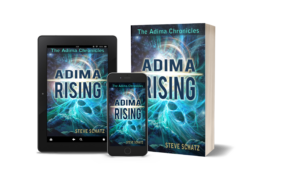 What Others are Saying:
"This light vs. dark adventure will speak to young adults and adults alike." (Goodreads Reviewer – 5 Stars)
"A real page turner… hard to put down. Awesome read." (Goodreads Reviewer – 5 Stars)
Find outlets for print and audiobook here: https://absolutelovepublishing.com/adima-rising/