We are thrilled to announce Animals Prints on My Soul by Candace Gish was awarded a gold medal in the 2023 Living Now Book Awards for the the animals/pets category! Congratulations to Candace and to all the contributors who made this book possible. Animal Prints on My Soul is a double-medal winner, previously earning the silver medal in the 2022 Living Now Book Awards for the gift/keepsake/coffee table category.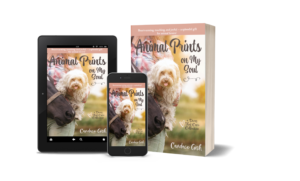 Animal Prints on My Soul is a heartwarming book that explores the human-animal bond through the experiences and stories of women. Featuring horses, dogs, cats, birds, and more, animal lovers will connect with these ordinary – yet extraordinary – stories of how animals impact our lives.
Launched in August of 2008, the Living Now Book Awards are designed to bring increased recognition to the year's very best lifestyle books and their creators. These wonderful awards celebrate the innovation and creativity of newly published books that can help us improve the quality of our lives, from cooking and entertaining to fitness and travel. View the full 2023 Living Now Book Awards here!